Applying for the COVID-19 Exception with QPP
For those who feel they will fall short of MIPS reporting standards for 2020, you will be relieved to know that you can apply for the COVID-19 MIPS exemption/exception. Claiming this exception will allow you to remain neutral while submitting data (meaning you will not see a reduction in reimbursement). For those who tried to stay on track with recording of measures and wish to report, doing so should allow you to receive an incentive. The deadline to submit the exception application has been extended to February 1st.
This afternoon I walked through this process via screen share with one of my doctors. Other than having to call and request a password reset, resulting in multiple two step verifications and a grueling effort to come up with a new password that met requirements, it was pretty straightforward.
Below is an instruction overview of the process accompanied by screenshots:
1. Go to https://qpp.cms.gov and log in
a. If you don't have your current username and password or you receive a troubling email following a password reset request, you will have to call the help desk (a phone number and error code are found in the email)
*We were able to get through and were assisted by the Help Desk with minimum wait time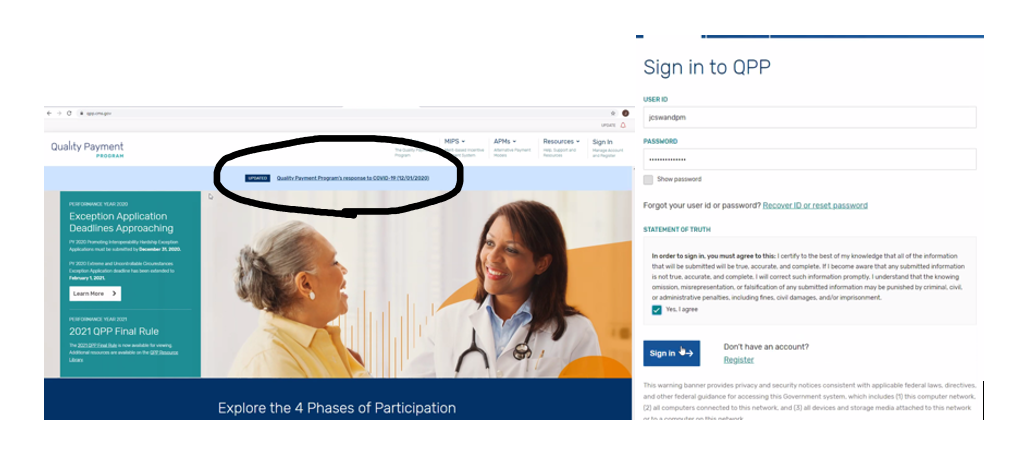 2. From anywhere on the website you will find more information on the QPP Exceptions and Apply under the "Extreme and Uncontrollable Circumstances"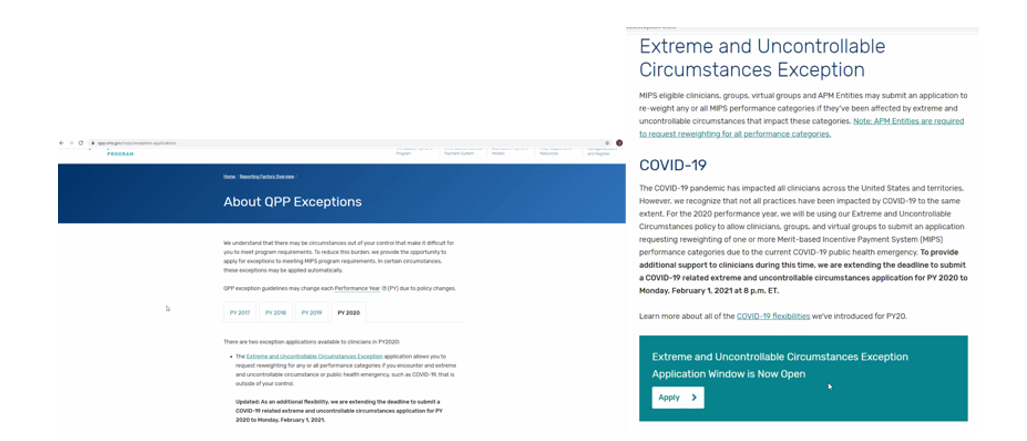 3. Once you click "Apply" you will then want to Select the Blue Box "Add New Exception"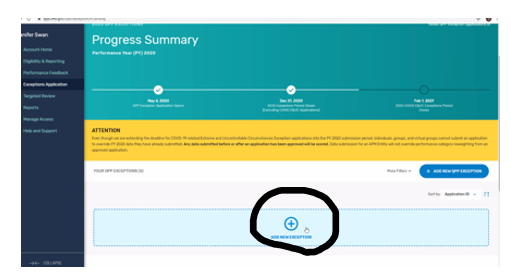 4. Then click the box "Extreme and Uncontrollable Circumstances"
5. Enter the Application Type (Individual or Group) and NPI and click "Save and Continue"
6. Next, in the "Extreme and Uncontrollable Circumstances Details", Select "Event Type" COVID-19 and the dates (March 13, 2020 to the date you are submitting the application).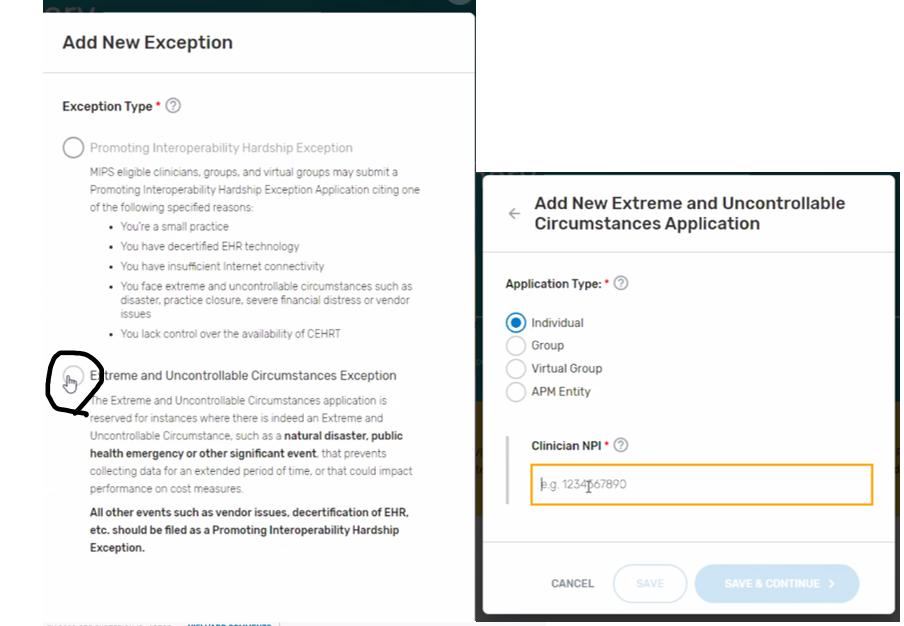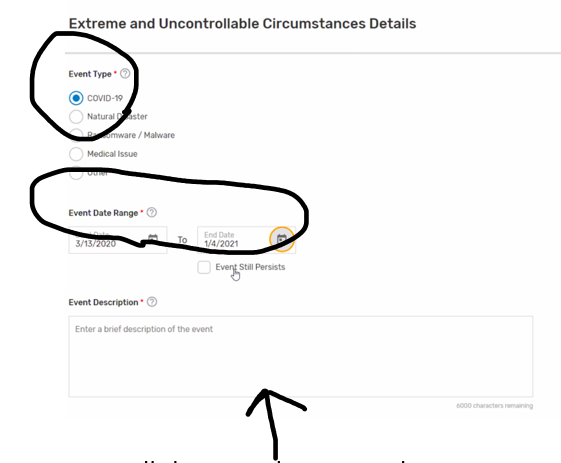 7. You will then need to enter the Event Description (please copy word for word)
a. My practice was severely impacted by the COVID-19 crisis. As a result, this practice is unable to successfully document the MIPS related data and measures for the performance year.
8. You will then scroll down and select ALL 4 categories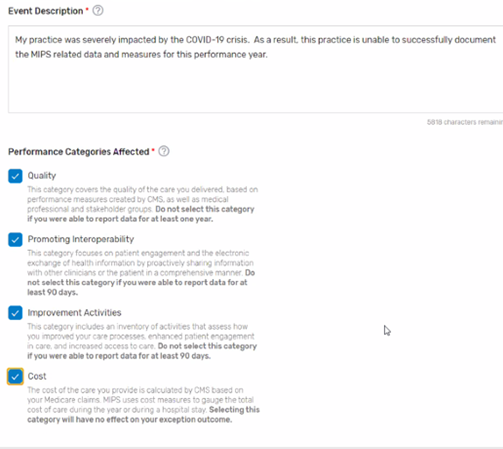 9. After filling in your remaining practice information you will click "Certify and Submit"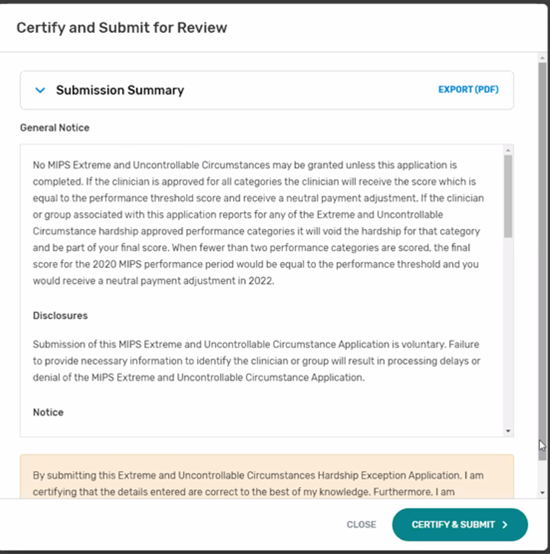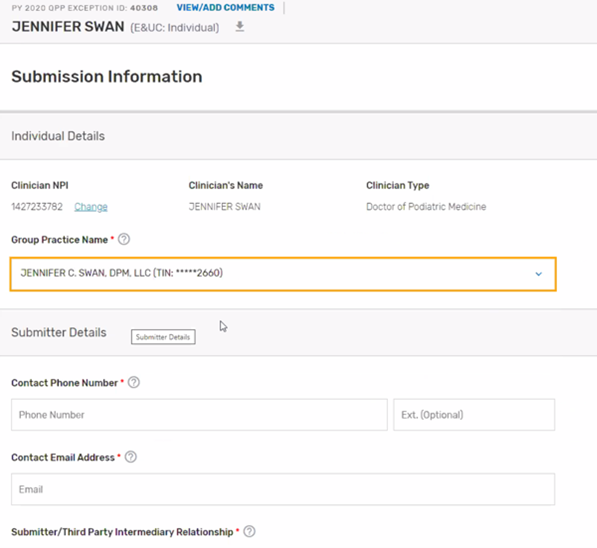 10. You will then receive confirmation of approval and export for your records.